Featured Charity Partner:
The Leukemia & Lymphoma Society (LLS) is a national partner with Wawa and the Wawa Foundation 2021

• The Leukemia & Lymphoma Society (LLS) is at the forefront of the fight to cure cancer.
• LLS is a leader in advancing breakthroughs in immunotherapy, genomics and personalized
medicine. This research saves lives.
• More than 70 years of fighting blood cancers has led us to a game changing belief. The cures
for cancer are in our blood.
• The drugs and treatments we developed for blood cancers have helped people affected by
many different types of cancer.
• Supporting LLS will not only help find the cure for blood cancer, but also enables pioneering
new treatments for other cancers.
• LLS is also the leading source of free education and support services for patients.
• LLS's policy team in Washington, DC, is hard at work advocating on behalf of cancer
patients, and pushing for legislation to protect patients and ensure they have access to
affordable quality care.
Spotlight:
A Salute to the 2019 Special Olympics Polar Bear Plunge Season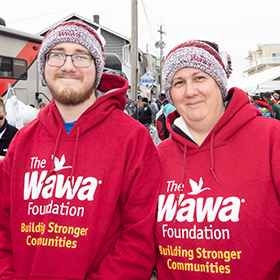 At Wawa, we believe that as a company we have a role in making the world a better place, and for our associates that means fulfilling the lives they touch each and every day whether serving you at our stores, or on Plunge Day.
In 2019, nearly 1,000 associates volunteered their time to taking the plunge and/or serving coffee to those who plunged into icy cold waters to bring awareness and funds for individual with intellectual disabilities.
Together, the Wawa Team and The Wawa Foundation raised nearly $130,000 for Special Olympics. We're proud of our associates and the impact made in our community.
Our National Partners:

We're proud to work alongside these national charity partners