Featured Charity Partner:
Special Olympics is a 2022 National Partner of Wawa and The Wawa Foundation.

All of us at Wawa are proud to help support the inspiring athletes who participate and compete in their local Special Olympics program.
The mission of Special Olympics is to provide year-round sports training and athletic competition in a variety of Olympic-type sports for children and adults with intellectual disabilities, giving them continuing opportunities to develop physical fitness, demonstrate courage, experience joy and participate in a sharing of gifts, skills and friendship with their families, other Special Olympics athletes and the community.
All states with Wawa stores will be represented in coin collections and UPC scans.
Overall Wawa funding support to Special Olympics programs in 2022 will offer greater opportunities for year-round athletic training and competition, and will work to improve many initiatives, including:
Increase number of registered athletes
Enhance Unified Schools and Sports programs
Bolster Healthy Athletes® programs
Strengthen programs for Young Athletes
Provide a higher quality of training opportunities for both athletes and coaches.
For the past 50 years, Special Olympics has been building a movement to break down barriers – both on and off the field in health and education – all through the power of sport. As they look to the future, Special Olympics will continue to inspire action to ultimately end discrimination for people with Intellectual Disabilities and promote a new generation of inclusion and unity that allows the power of sport to transform lives and open minds.
We believe the athletes of Special Olympics and those who support them
are truly heroes. We salute their efforts and are proud to support them!
Spotlight:
A Salute to the 2019 Special Olympics Polar Bear Plunge Season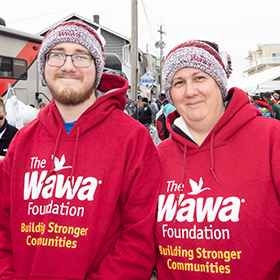 At Wawa, we believe that as a company we have a role in making the world a better place, and for our associates that means fulfilling the lives they touch each and every day whether serving you at our stores, or on Plunge Day.
In 2019, nearly 1,000 associates volunteered their time to taking the plunge and/or serving coffee to those who plunged into icy cold waters to bring awareness and funds for individual with intellectual disabilities.
Together, the Wawa Team and The Wawa Foundation raised nearly $130,000 for Special Olympics. We're proud of our associates and the impact made in our community.
Our National Partners:

We're proud to work alongside these national charity partners