Featured Charity Partner:
Children's Miracle Network Hospitals is a corporate wide partner of Wawa and The Wawa Foundation in 2022

Going off of our founding principles, to continuously seek out opportunities to be the best neighbors, we have raised $13 million for Children's Miracle Network Hospitals (CMN Hospitals) since 2003. We are proud to partner CMN Hospitals, the largest network of children's hospitals in the U.S. and Canada. CMN Hospitals provide 32 million patient visits for 10 million kids each year, meaning 62 children enter a member of CMN Hospital every minute. Since 1983, CMN Hospitals has raised more than $7 billion, most of it $1 at a time.

Our partnership with CMN Hospitals includes 15 pediatric institutes, some of the most well known in our markets. Funds raised enable these hospitals to provide specialized treatments and services, equipment, research, and charitable care.

• Children's Hospital of Philadelphia
• Children's Hospital of Richmond at VCU
• Children's Hospital of The King's Daughters
• Children's National Hospital
• Children's Specialized Hospital
• Geisinger Janet Weis Children's Hospital
• Golisano Children's Hospital of Southwest Florida
• Johns Hopkins All Children's Hospital
• Johns Hopkins Children's Center
• Nicklaus Children's Hospital
• Orlando Health Arnold Palmer Hospital for Children
• Penn State Health Children's Hospital
• UF Health Jacksonville, Wolfson Children's Hospital
• UF Health Shands Children's Hospital
• UVA Children's Hospital

During our three-week long scan campaign, customers of Wawa can donate $1, $3 or $5. Reminder that all donations will go to your local member of CMN Hospitals to ensure kids receive the best possible care in your community.

One in 10 children in North America is treated at a member of CMN Hospitals each year. With the continued dedication of our passionate staff and generous employees, we can make miracles happen for local kids in need.
Spotlight:
American Red Cross Sound the Alarm Event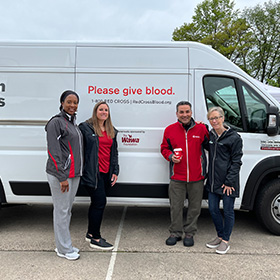 Volunteers and members of the American Red Cross, along with the Philadelphia Fire Department and several community partners, joined together to install free smoke alarms for local families vulnerable to home fires during the Sound the Alarm event. Wawa was onsite at Wissinoming Park with the Community Coffee Vehicle serving coffee and hot chocolate to all who participated in this event!
Our National Partners:

We're proud to work alongside these national charity partners