Featured Charity Partner:
JDRF is a 2021 National Partner of Wawa and The Wawa Foundation

Wawa has been a long-time partner of JDRF. Over the past 20 years through the JDRF UPC scan and coin canister campaigns, Wawa associates and customers have helped fund life-changing breakthroughs aimed to cure, prevent and treat type 1 diabetes (T1D) and its complications.
• Beginning September 13 to October 3, Wawa stores will ask customers to participate in the JDRF Scan Campaign by donating $1, $3 or $5 to support JDRF as it works to create a world without T1D.
• 2021 marks 50 years of progress and impact at JDRF. Brought together in 1970 by two moms determined to help not just their children, but everyone with type 1 diabetes (T1D). The JDRF community has grown to include scientists, lobbyists, celebrities and children collecting coins at school – all determined to improve lives and find cures. Bound by a will stronger than the disease, the T1D community continues to fight until we can turn type one into type none.
• For almost 50 years, JDRF has been the leader in the search for an end to T1D through both research and advocacy. JDRF wants everyone to understand that the word 'juvenile' is no longer descriptive of the disease. Today 85% of those with T1D are adults. We want you to communicate that JDRF is an organization for ALL ages and ALL stages of the disease until together we can turn type one into type none.
• JDRF is the leading global organization funding T1D research. JDRF's ultimate goal is to find a cure for T1D, but along the way fund therapies that will lessen the burden of living with the disease. JDRF collaborates with a wide spectrum of partners and is the only organization with the scientific resources to influence policy and deliver a pipeline of innovative therapies to people living with T1D.
• JDRF exists for the millions of children, adults, and families affected by T1D every day. Their determination to live with this disease inspires us, and strengthens our resolve to create a world without T1D.
Spotlight:
A Salute to the 2019 Special Olympics Polar Bear Plunge Season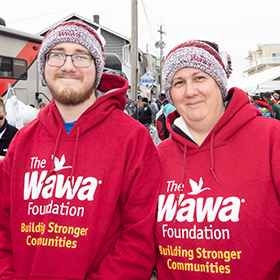 At Wawa, we believe that as a company we have a role in making the world a better place, and for our associates that means fulfilling the lives they touch each and every day whether serving you at our stores, or on Plunge Day.
In 2019, nearly 1,000 associates volunteered their time to taking the plunge and/or serving coffee to those who plunged into icy cold waters to bring awareness and funds for individual with intellectual disabilities.
Together, the Wawa Team and The Wawa Foundation raised nearly $130,000 for Special Olympics. We're proud of our associates and the impact made in our community.
Our National Partners:

We're proud to work alongside these national charity partners